Looking In The Mirror: What Emily And I Share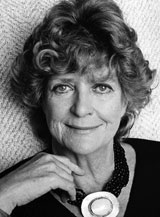 I believe I have a distinction at this Emily Dickinson festival that no other writer here can claim, and that is that Emily and I have the same birthday. If she'd only been born five years earlier it would have been a perfect hundred years. You notice I don't say if only I'd been born five years earlier, or later that is. I want to read a couple of Emily's poems that meant a lot to me when I was a young woman because I thought I was the only person in the world that didn't know who they were. I thought that my shaky identity was unique and my fear that if I looked in the mirror I wouldn't see anything there was special to me. I remember the great comfort with which I found Emily on that subject in the following poems:
I am alive - I guess -
The Branches on my Hand
Are full of Morning Glory -
And at my finger's end -

The Carmine - tingles warm -
And if I hold a Glass
Across my Mouth - it blurs it -
Physician's - proof of Breath -

I am alive - because
I am not in a Room -
The Parlor - Commonly - it is -
So Visitors may come -

And lean - and view it sidewise -
And add "How cold - it grew" -
And "Was it conscious - when it stepped
In Immortality?"

I am alive - because
I do not own a House -
Entitled to myself - precise -
And fitting no one else -

And marked my Girlhood's name -
So Visitors may know
Which Door is mine - and not a mistake -
And try another Key -

How good - to be alive!
How infinite - to be
Alive - two-fold - The Birth I had -
And this - besides, in - Thee!
[end poem; JP 470]
And this is from 351: 
I felt my life with both my hands
To see if it was there -
I held my spirit to the Glass,
To prove it possibler -

I turned my Being round and round
And paused at every pound
To ask the Owner's name -
For doubt, that I should know the Sound -

I judged my features - jarred my hair -
I pushed my dimples by, and waited -
If they - twinkled back -
Conviction might, of me -

I told myself, "Take Courage, Friend -
That - was a former time -
But we might learn to like the Heaven,
As well as our Old Home!"
[end poem; JP 351]
458: 
Like Eyes that looked on Wastes -
Incredulous of Ought
But Blank - and steady Wilderness -
Diversified by Night -

Just Infinites of Nought -
As far as it could see -
So looked the face I looked upon -
So looked itself - to Me -

I offered it no Help -
Because the Cause was Mine -
The Misery a Compact
As hopeless - as divine -

Neither - would be absolved -
Neither would be a Queen
Without the Other - Therefore -
We perish - tho' We reign -
[end poem; JP 458]
Now I hesitate to look in mirrors for other reasons, but I think I know who I am, and I know who helped. I'm going to read two poems in tribute to two very different women. The first is Mrs. Robert Louis Stevenson, Fanny Osborn, the extraordinary woman that he fell in love with when they were both in rural France studying art, and whom he pursued across the United States, risking his life. If you've ever read a description of the kind of train he slept on, on a board, with people blowing cigar and pipe smoke into the face of this tubercular, you'll know it was true love. He nearly died in Monterey, but she nursed him and various people took care of him, and finally he persuaded her to get a divorce and marry him. They tried living in Edinburgh and London for a while, where he nearly died; that was not the place for him in those days of incredible smog and coal smoke. So she took him away from his friends to Samoa, where he lived another decade. And his friends, if you've ever read a biography of R.L.S., never forgave her. She was this divorced vixen who had stolen their darling and his wonderful conversation.
I've long been interested in women who are the surrogates of gifted men: the mothers, the daughters, the wives, the sisters. What do they do with their creativity when they're looking after a man's creativity? This is what one woman did--the poem is called "Fanny," and I'll read from it, because it's quite long.
At Samoa, hardly unpacked, I commenced planting
When I'd opened the chicken crates, built the Cochins a coop.
The Reverend Mr. Claxton called, found me covered with mud,
My clothes torn, my hair in a wad, my bare feet bleeding.
I had started the buffalo grass in the new-made clearing.
The next day the priest paid a visit. Civil but restless,
I was dying to plant the alfalfa seed--gave him a packet.

That evening I paced up and down, dropping melon seeds,
Tomatoes and bush lima beans here and there
Where I thought they would grow. We were short of food now,
So I cooked up a mess of fat little parrots, disturbed
At the way they suggested cages and swings and stands . . .
An excellent meal. I have been told the dodo survived here,
And yearn for a pet on a string. I built the pig-house.

I had brought sweet coconut seed from Savage Island.
I planted kidney potatoes in small earthen hills.
Sowed seeds of eggplant in numerous boxes of soil,
Tomato and artichoke too; half-a-dozen fine pineapples
Sent over by Mr. Carruthers, the island solicitor.
As fast as we eat them, we plant the tops.
The kitchen a shack near the house. I made bread in the rain.

October, 1890. I have been here nearly a month;
Put in corn, peas, onions, radishes, lettuce. Lima beans
Are already coming up. The ripening cantaloupe were stolen.
Carruthers gave me mint root and grenadilla
Like a bouquet; he delivered a load of trees,
Two mangoes among them. I set them out in a heavy rain,
Then rounded off the afternoon sowing Indian corn.

Louis has called me a peasant. How I brooded!
Confided it to you, diary, then crossed it out.
Peasant because I delve in the earth, the earth I own.
Confiding my seed and root--I too a creator?
My heart melts over a bed of young peas. A blossom
On the rose tree is like a poem by my son.
My hurt healed by its cause, I go on planting.

No one else works much. The natives take it easy;
The colonials keep their shops, and a shortage of customers.
The mail comes four times a month, and the gossip all day.
The bars are crowded with amateur politicians,
Office-seekers I named the earwig counsel and king:
Big talkers, with small-time conspirators drinking them in.
Mr. Carruthers and I picked a site for the kitchen garden.

I was planting a new lot of corn and pumpkin
When a young chief arrived, laden with pineapple plants.
I set them out as I talked to him on the way home.
Rats and a wild hen ate the corn. Lettuce got too much sun.
So I dug a new patch up the road; in the fragrant evening
I confided to Louis, a puff of the sweetest scent
Blows back as I cast away a handful of so-called weeds!

It still hurts, his remark that I have the soul of a peasant.
My vanity, like a newly-felled tree, lies prone and bleeding.
I clear the weeds near the house for planting maize.
Sweet corn and peas are showing. I send for more seeds.
I clean out the potatoes, which had rotted in their hills.
Of course, RLS is not idle; he is writing A Footnote to History:
How the great powers combine to carve up these islands.

I discovered the ylang-ylang tree: a base for perfume,
Though it suggested to me the odor of boots.
Another tree is scented like pepper and spice,
And one terrible tree, I am forced to say,
Smells like ordure . . . It nearly made me ill.
Breadfruit is plentiful. I found a banana grove,
Began clearing it instantly, and worked till I was dizzy.

The garden looks like a graveyard: beds shaped like tombs.
I plant cabbage which I loathe, so the British won't tease me
For not growing it. But behold! in the hedge
Among citron and lime, many lemon trees, in full bearing.
Still, I will fall to brooding before the mirror,
Though Louis says he finds the peasant class "interesting."
He is forty today. I am ten years his senior.

On the cleared land, the green mummy-apple,
Male and female, is springing up everywhere.
I discover wild ginger, tumeric, something like sugar.
Roots of orange, breadfruit and mango, seeds of cacao
Came with a shipment from Sydney; also eleven
Young navel orange trees. The strawberry plants are rotten.
I am given a handful of bees. I plant more pineapple.

All fall I am cursed with asthma, rheumatics, a painful ear.
Christmas. A hurricane. And the New Year begins.
Louis describes it divinely to Henry James.
Mr. Carruthers' gift pineapple starts to fruit.
I set out one precious rhubarb plant, pause to gloat
At the ripe tomatoes, the flourishing long-podded beans.
But the neighbors' horses break in and trample the corn.

Sometimes, when planting, a strange subterranean rumble
--Volcanic?--vexes the earth beneath this peasant haunch.
I rise up from my furrow, knuckle smooth my brow
As I sniff the air, suddenly chemical, a sulphurous fume.
Louis insisted on going to Sydney, fell ill again.
His mother comes back with him, finds me on my knees.
The old lady's heart leaps! Alas, I am planting, not praying.

We both rise at five thirty, after dreaming of weeds,
Louis described to me endless vivid deeps:
Dreams of nettle-stings, stabs from the citron's thorns,
The ants' fiery bites, the resistance of mud and slime,
The evasions of wormy roots, the dead weight of heat
In the sudden puffs of air. . . Louis writes till nine,
Then if he's well enough, he helps with the weeding.

He writes Colvin, keeper of prints at the British Museum,
"I know pleasure still . . . with a thousand faces,
None perfect, a thousand tongues, all broken,
A thousand hands, all with scratching nails . . .
High among joys, I place this delight of weeding,
Out here alone by the garrulous water, under the silence
Of the high wind, broken by sounds of birds."

The shock of bird-calls, laughing and whistling!
They mimic his name till it seems, he says,
"The birds relive the business of my day."
But the rains continue to fall on birds and weeds.
The new servants fooled around with the ice machine
As the house leaked and listed. Mildew spread its failure.
Mrs. S. gave me some nuts, and went back to Australia.

Green peppers, eggplant, tomatoes are flourishing,
Asparagus also. The celery does to season soup.
Avocadoes grow at a rate that is almost frightening.
Coconuts too. I read about Stanley and Livingstone.
I cured my five ulcers with calomel, wished I could tell
Stanley the remedy. Instead, I made perfume.
The servants feared devils, so I planted the orange grove alone.

For two months I misplaced this diary . . .
War is in the air, talk of killing all whites.
I bought coffee trees, rose trees and Indian beans,
Then went to Fiji to rest, and to get more seeds
From a former Kew gardener. An Indian in a shop
Told me how to raise Persian melon and cauliflower
And a radish that turns into a turnip when it grows up.

I came home to a burgeoning world: cacao, custard squash.
The new house was finished, and painted peacock blue.
The jealous old cat bit off the new cat's toes.
My mother-in-law returned with her Bible and lady's maid;
My daughter, her family, and my son Lloyd came too.
The relatives had a terrible row. Mrs. S. refused
To pray with the servants. I throw up my hands!

My diary entries grow farther and farther apart.
I wrote life was a strain. Later, someone crossed it out.
In pain again, from an aneurysm inside my head . . .
I planted more and more cacao, and a form of cherry tree,
Tobacco and rubber, taught how by Mr. Sketchley.
I planted more cacao through an epidemic of 'flu.
Three hundred seeds in baskets broke through the ground.

I get almost no time to write. I have been planting . . .
Four kinds of cabbage are doing very well.
Mr. Haggard, the land commissioner, come to dine,
Points out a weed which makes excellent eating
Cooked like asparagus. I shall try it very soon.
Now, when the Reverend Mr. Claxton comes to call,
I refuse to see him. I am tired of the Claxtons.

The political situation grows grim. I rage at Louis
Who toasts, "Her Blessed Majesty the Queen," then aggressively
Throbbing, turns to my American son
To say he may drink to the President afterwards
If he likes. I am writing this down
Hoping Louis will see it later, and be ashamed
Of his childishness and bad taste. (This will be erased.)

Because war is near, the Germans stop growing cacao.
Captain Hufnagel offers me all the seeds I can use.
So now we are blazing with cacao fever,
The whole family infected. Six hundred plants set out!
The verandah tracked with mud, and the cacao litter.
Mrs. S upset by the mess. Twelve hundred cacaos planted.
Joe, my son-in-law, planted his thousandth tree today.

The tree onions make large bulbs but don't want to seed.
Most vigorous: sunflower, watermelon--weeds!
The jelly from berries out of the bush is delicious;
Lovely perfume from massoi, citron, vanilla and gum.
The peanuts are weeded by moonlight, set out more cacao.
The heart of a death's-head moth beats a tattoo in my hand.

Planted coffee all day, and breadfruit, five beauties . . .
Planted coffee the better part of the day, eight plants.
In the nursery, three times that many. Planted coffee . . .
Painted the storm shutters. Planted coffee all morning.
I found a heap of old bones in a bush near the sty;
Two heads and a body: a warrior died with his prize.
Louis gave the bones a funeral and a burial.

A series of hurricanes. Louis writes to The Times
Of the "foul colonial politics." I send to New York for seeds:
Southern Cross cabbage, eggplant, sweet potato
And two thousand custard apples. Louis' own seed,
David Balfour, is growing. I wrote nothing
From June till the end of this year; too busy planting.
The Samoan princes are getting nearer to war.

It pains me to write this: my son-in-law has gone native
In a spectacular way. Belle is divorcing him.
Austin, my grandson, is in school in Monterey.
I have not, I believe, mentioned Mrs. Stevenson recently.
She has gone back to Scotland. The first breadfruit bore.
Belle and I go on sketching expeditions
To the hostile Samoan camps, stop in town for ginger beer.

Mr. Haggard begged us to stay in town
because he bitterly wanted women to protect.
I suggested to him that I and my daughter
Could hide under his table and hand him cartridges
At the window, to complete the romantic effect.
It is clear that Mr. Haggard is Ryder's brother!
He said, "You'd sell your life for a bunch of banana trees."

I've given permission to most of the "boys"
To go to the races. Lloyd has put up the lawn tennis things.
Mr. Gurr, the neighbor, rushes in to say war has begun.
We all race to the mission. Eleven heads have been taken.
Later: Mr. Dine's cousin received a head smeared with black
(The custom is to return them to the bereaved).
He washed it off and discovered it was his brother.

He sat there, holding his brother's head in his hands,
Kissing it, bathing it with tears. A scandal arose
Because the heads of three girls have been taken as well
(Unheard of before in Samoa), returned wrapped in silk to their kin.

At Maile, the warriors danced a head-hunter's pantomine;
The men who had taken heads carried great lumps of raw pork
Between their teeth, cut in the semblance of heads.

I stopped writing this. Too hysterical with migraine.
Also, people find where I hide it, and strike things out.
Our favorite chief is exiled for life. The war winds down.
Louis works on his masterpiece, The Weir of Hermiston.
Well, I've kept him alive for eight more years,
While his dear friends would have condemned him to fog and rain
So they might enjoy his glorious talk in London,

Though it be the end of him. Fine friends! except for James.
Later: At six, Louis helped with the mayonnaise,
When he put both hands to his head, said,"Oh, what a pain!
Do I look strange?" I said no, not wanting to frighten him.
He was never conscious again. In two hours he died.
Tonight, the chiefs with their axes are digging a path
To the top of the mountain. They will dig his grave.

I will leave here as soon as I can, and never return,
Except to be buried beside him. I will live like a gipsy
In my wild, ragged clothes, until I am old, old.
I will have pretty gardens wherever I am,
But never breadfruit, custard apples, grenadilla, cacao,
Pineapple, ylang-ylang, citron, mango, cacao,
Never again succumb to the fever of planting.
[end poem]
This is a new poem called "Gerda." You will see certain correspondences here. I will read you the epigraph and see how many of you understand it.
Gud, som haver barnen kär,
Se till mig som liten är.
Vart jag mig i världen vänder
Står min lycka i Guds Händer.
[end poem]
It's an old Swedish children's prayer, roughly the equivalent of "Now I Lay Me--"
Down the long curving walk you trudge to the street,
Stoop-shouldered in defeat, a cardboard suitcase
In each hand. Gerda, don't leave! the child cries
From the porch, waving and weeping; her stony mother
Speaks again of the raise in salary
Denied. Gerda demands ten dollars more
Than the twenty-five a month she has been paid
To sew, cook, keep house, dress and undress the child,
Bathe the child with the rough scaly hands
she cleans in Clorox; sing to the child
In Swedish, teach her to pray, to count on her toes
In Swedish. Forty years on, the child still knows how,
Is a great hit with the children under seven, in Sweden,
Singing a folk song, praying, counting toes.
For twenty-five dollars a month in 1933
Gerda makes for the child her favorite, fattigmand,
A mix of flour, milk and eggs you cut in strips,
Then fry in fat, then dust with sugar
(the child helps Gerda cook so she knows that).
In Stockholm the child will inquire of fattigmand,
But like lost Gerda it does not exist.

Deep in the Depression, the child fears for her
As Gerda trudges down the walk, four blocks to the bus,
Then the train to Minneapolis. What will she do?
Gerda, trained as a nurse, found no work before
She came to us. Twenty-five dollars a month
To sew a quilt for the child, covered with fabulous
Animals feather-stitched in blue and white;
Now after fifty years it hangs on the wall
Of the child's grandchild, in a Chicago house.
Then, when the child awoke, addled and drunk with
    nightmare,
She dragged the quilt from her cot,
Stumbled sniffling into Gerda's room,
To be taken into her bed, soothed back to sleep
By the rough, antiseptic hands.

The child wakes up to naked light.
Ageless Gerda's steel-grey bob shakes into place
(she owns no mirror);
Blind Gerda gropes for her steel-rimmed spectacles
As the child sees, with fascinated love,
The curd in the corner of each of Gerda's eyes.
It is a magic substance the child has improvised
On a favorite tale: Hans Christian Andersen's
Snow Queen. She thinks of it as the good cream curd,
The reverse of the splinter in the eye
of little Kay: everyone, like the brave child in the story,
Everyone like Gerda.

Modest Gerda dresses in the closet,
Then the two on tiptoe steal to the child's room
So the stout handsome mother will not waken.
Then Gerda bathes the child, scrubs her hard all over
With the loofah, dries her carefully on the big warm towel,
Pulls on her panties of white cotton, then the dress,
Smelling deliciously of Gerda's iron, the dress
Gerda smocked at night while the household slept,
Then the pastel sweater Gerda knitted her.
The child sits on the edge of the bed while Gerda
Brushes then twists the child's fair hair
Into two fat braids secured with rubber bands.

The child, so much fairer than her parents, nearly believes
She's Swedish; is pleased then, and forty years on
To be taken for Scandinavian: Gerda's own.
Now Gerda pulls up the white anklets, fastens the sandals.
Down to the pantry!--where the child climbs into her chair.
Gerda sets three places, one for the child,
One for the child's imaginary playmate, one for her.
And they eat the lovely oatmeal Gerda cooked the night
    before.

Thirty years on, her father will remark,
Your mother was jealous
So we let her go. Of course I could have raised her wages,
Gerda ran the house! The child's throat fills with bile
As, casually, he continues: I always let your mother
Decide these matters. Smug, he often used that phrase
As if the abdication of his parenthood
Had been a sacrifice. What did he know
Of the child's needs or passions?
So Gerda left the house, the yard, the garden,
The child's home long torn down,
A place that no longer exists.
Thirty-five years on, the child stumbles among the weeds
In search of the path down which her Gerda walked
Or a trace of the porch where she once stood, bereft.

The child's eighth year, like Gerda, disappeared.
Hazy recall of illness:
Asthma, the wheeze, the struggle for breath,
And the louder rhythmic wheeze of oxygen . . .
Of the weeks in bed, lying inert, nothing remains,
Only the pallid joys of recovery,
Jello and milk, ice cream three times a day
(was this a bribe?);
Dreamily sucking a spoonful of melting vanilla:
Only these splinters of a vanished year.

It must have been then that the ice-house dream began,
Her first and last recurring dream:
The child stands in a little room of ice;
Outside a song begins, impossibly nostalgic,
Played on a concertina or harmonium.
As the dream goes on
Slowly, slowly the walls move in, the ceiling presses down
Till she is encased in a kind of upright coffin
Of milky iridescent ice. Entranced by a vision
Of green hills and pure blue skies without,
She conceives freedom and flight!
She must memorize the tune as the ice moves in
To touch her on every side and on her head.
As the last, haunting note is played
The child wakes up. Of course the tune is gone.
It is always gone.

For ten years the child nurtures a secret plan:
A last she boards a train for the East,
Waits for the layover in Minneapolis,
Hurries to a pay phone, armed with change,
Opens the directory,
Faints to see four columns, closely printed,
Of Gerda Johnsons. How could there be more than one?
Ranging her nickels on the metal counter.
She calls from the top
As the hands of the clock spin round.
Gerda! Gerda! Half-a-page
With answers none, or ancient whispery Norse voices
Down a tunnel of years, and oceans crossed
And cold home villages abandoned long ago.
Then she runs out of change and time. A train to catch.
She weeps at terminated hope, nourished for so long,
As the old filmstrip runs again:

Gerda, you trudge down the walk forever;
The child, no matter how she calls and cries,
Cannot catch up.
Now from another life she summons you
Out of the earth or aether, wherever you are,
Gerda, come back, to nurse your desolate child.
[end poem]
Thank you very much.  I'll read some of it ["Pro Femina"] anyways, we'll see how it goes..."Pro Femina Part I"
From Sappho to myself, consider the fate of women.
How unwomanly to discuss it! Like a noose or an albatross
    necktie
The clinical sobriquet hangs us: cod-piece coveters.
Never mind these epithets; I myself have collected some
    honeys.
Juvenal set us apart in denouncing our vices
Which had grown, in part, from having been set apart;
Women abused their spouses, cuckolded them, even plotted
To poison them. Sensing, behind the violence of his manner--
"Think I'm crazy or drunk?"--his emotional stake in us,
As we forgive Strindberg and Nietzsche, we forgive all those
Who cannot forget us. We are hyenas. Yes, we admit it.

While men have politely debated free will, we have howled for
    it,
Howl still, pacing the centuries, tragedy heroines.
Some who sat quietly in the corner with their embroidery
Were Defarges, stabbing the wool with the names of their
    ancient
Oppressors, who ruled by the divine right of the male--
I'm impatient of interruptions! I'm aware there were millions
Of mutes for every Saint Joan or sainted Jane Austen,
Who, vague-eyed and acquiescent, worshiped God as a man.
I'm not concerned with those cabbageheads, not truly feminine
But neutered by labor. I mean real women, like you and like
    me.

Freed in fact, not in custom, lifted from furrow and scullery,
Not obliged, now, to be the pot for the annual chicken,
Have we begun to arrive in time? With our well-known
Respect for life because it hurts so much to come out with it;
Disdainful of "sovereignty," "national honor" and other
    abstractions;
We can say, like the ancient Chinese to successive waves of
    invaders,
"Relax, and let us absorb you. You can learn temperance
In a more temperate climate." Give us just a few decades
Of grace, to encourage the fine art of acquiescence
And we might save the race. Meanwhile, observe our creative
    chaos,
Flux, efflorescence--whatever you care to call it!
[end poem]
I suppose I should say this was written twenty years ago, so some lines that seemed strikingly original to me then, now seem less so. I was what you might call a premature feminist, you know, like being called a premature anti-fascist. Then I read Simone de Beauvoir and everything I had ever felt, all those wounds I had sustained when I had read about men this, and men did that, and poets "he" and so on--all my pains and doubts were confirmed by that great book.
["Pro Femina, Part II"]

I take as my theme "The Independent Woman,"
Independent but maimed: observe the exigent neckties
Choking violet writers; the sad slacks of stipple-faced matrons;
Indigo intellectuals, crop-haired and callous-toed,
Cute spectacles, chewed cuticles, aced out by full-time beauties
In the race for a male. Retreating to drabness, bad manners
And sleeping with manuscripts. Forgive our transgressions
Of old gallantries as we hitch in chairs, light our own cigarettes,
Not expecting your care, having forfeited it by trying to get even.

But we need dependency, cosseting and well-treatment.
So do men sometimes. Why don't they admit it?
We will be cows for a while, because babies howl for us,
Be kittens or bitches, who want to eat grass now and then
For the sake of our health. But the role of pastoral heroine
Is not permanent, Jack. We want to get back to the meeting.

Knitting booties and brows, tartars or termagents, ancient
Fertility symbols, chained to our cycle, released
Only in part by devices of hygiene and personal daintiness,
Strapped into our girdles, held down, yet uplifted by man's
Ingenious constructions, holding coiffures in a breeze,
Hobbled and swathed in whimsey, tripping on feminine
Shoes with fool heels, losing our lipsticks, you, me,
In ephemeral stockings, clutching our handbags and packages.

Our masks, always in peril of smearing or cracking,
In need of continuous check in the mirror or silverware,
Keep us in thrall to ourselves, concerned with our surfaces.
Look at man's uniform drabness, his impersonal envelope!
Over chicken wrists or meek shoulders, a formal, hard-fibered assurance.
The drape of the male is designed to achieve self-forgetfulness.

So, Sister, forget yourself a few times and see where it gets you:
Up the creek, alone with your talent, sans everything else.
You can wait for the menopause, and catch up on your reading.
So primp, preen, prink, pluck and prize your flesh,
All posturings! All ravishment! All sensibility!
Meanwhile, have you used your mind today?
What pomegranate raised you from the dead,
Springing, full-grown, from your own head, Athena?
"PART III"
I will speak about women of letters, for I'm in the racket.
Our biggest successes to date? Old maids to a woman.
And our saddest conspicuous failures? The married spinsters
On loan to the husbands they treated like surrogate fathers.
Think of that crew of self-pitiers, not-very-distant,
Who carried the torch for themselves and got first-degree burns.
Or the sad sonneteers, toast-and-teasdales we loved at thirteen;
Middle-aged virgins seducing the puerile anthologists
Through lust-of-the-mind; barbiturate-drenched Camilles
With continuous periods, murmuring softly on sofas
When poetry wasn't a craft but a sickly effluvium,
The air thick with incense, musk, and emotional blackmail.

I suppose they reacted from an earlier womanly modesty
When too many girls were scabs to their stricken sisterhood,
Impugning our sex to stay in good with the men,
Commencing their insecure bluster. How they must have swaggered
When women themselves endorsesd their own inferiority!
Vestals, vassals and vessels, rolled into several,
They took notes in rolling syllabics, in careful journals,
Aiming to please a posterity that despises them.
But we'll always have traitors who swear that a woman surrenders
Her Supreme Function, by equating Art with aggression
And failure with Femininity. Still, it's just as unfair
To equate Art with Femininity, like a prettily-packaged commodity
When we are the custodians of the world's best-kept secret:
Merely the private lives of one-half of humanity.

But even with masculine dominance, we mares and mistresses
Produced some sleek saboteuses, making their cracks
Which the porridge-brained males of the day were too thick to perceive,
Mistaking young hornets for perfectly harmless bumblebees.
Being thought innocuous rouses some women to frenzy;
They try to be ugly by aping the ways of the men
And succeed. Swearing, sucking cigars and scorching the bedspread,

Slopping straight shots, eyes blotted, vanity-blown
In the expectation of glory: she writes like a man!
This drives other women mad in a mist of chiffon.
(One poetess draped her gauze over red flannels, a practical feminist.)

But we're emerging from all that, more or less,
Except for some lady-like laggards and Quarterly priestesses
Who flog men for fun, and kick women to maim competition.
Now, if we struggle abnormally, we may almost seem normal;
If we submerge our self-pity in disciplined industry;
If we stand up and be hated, and swear not to sleep with editors;
If we regard ourselves formally, respecting our true limitations
Without making an unseemly show of trying to unfreeze our assets;
Keeping our heads and our pride while remaining unmarried;
And if wedded, kill guilt in its tracks when we stack up the dishes
And defect to the typewriter. And if mothers, believe in the luck of our
    children,
Whom we forbid to devour us, whom we shall not devour,
And the luck of our husbands and lovers, who keep free women.
[end poem]