"My 'position'! / Cole."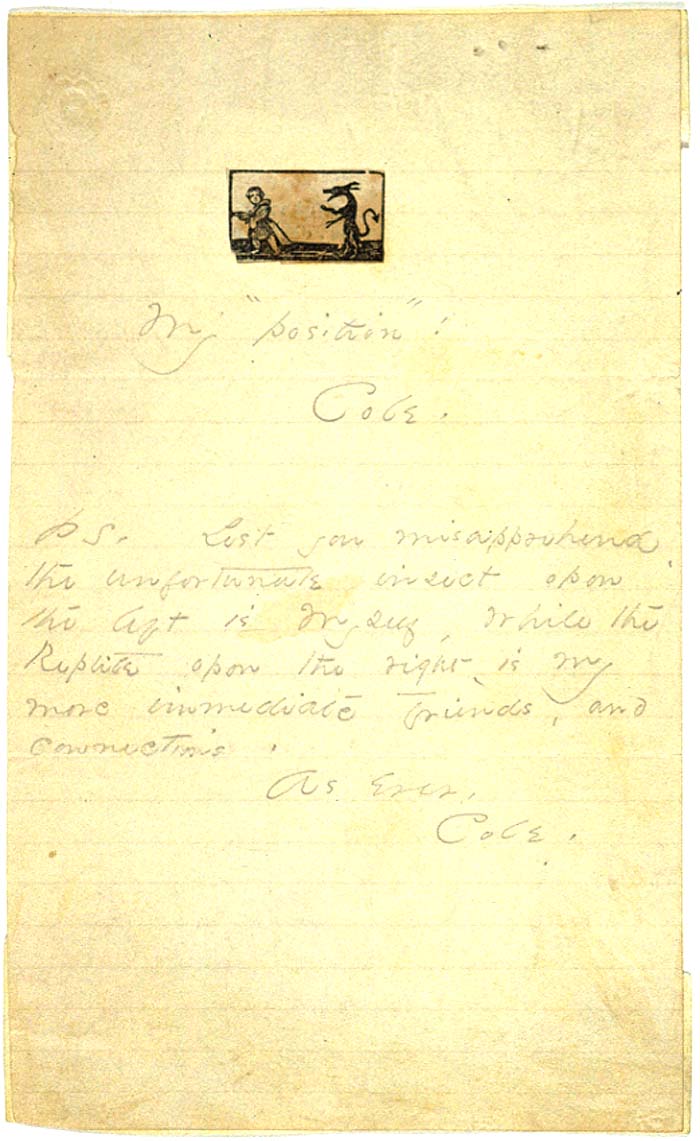 < transcription >
Notes
H B114 | JL 214 | late 1850s
Pencil | Watermark/Embossment: FNP/Fine Note Paper | 20 x 13 cm
LL 156, in facsimile. Pencil manuscript with cutout from The New England Primer. See Comic Power in Emily Dickinson, 82-84, for more full discussion of this "cartoon" using the figure of Thomas Cole, English painter of American landscapes, and likely referring to William Cullen Bryant's poem, "To Cole, the Painter, Departing for Europe" to joke about her father having come next door to fetch her home from the Evergreens when he thought she had stayed too late. The poem beseeches Cole to carry a "living image" of America with him and concludes: "Keep that earlier, wilder image [of America] bright." Dickinson's recollection of a revel the night before in the Evergreens is certainly "wilder" than the company of her father. By naming herself Cole and subtly alluding to Bryant, Dickinson both authorizes her complaint by aligning herself and her friends with some of the most respected personalities of the day and demonstrates her good-humored reception of her father's overbearing reprimand through the jollity conveyed by such a ludicrous comparison.