Manuscript: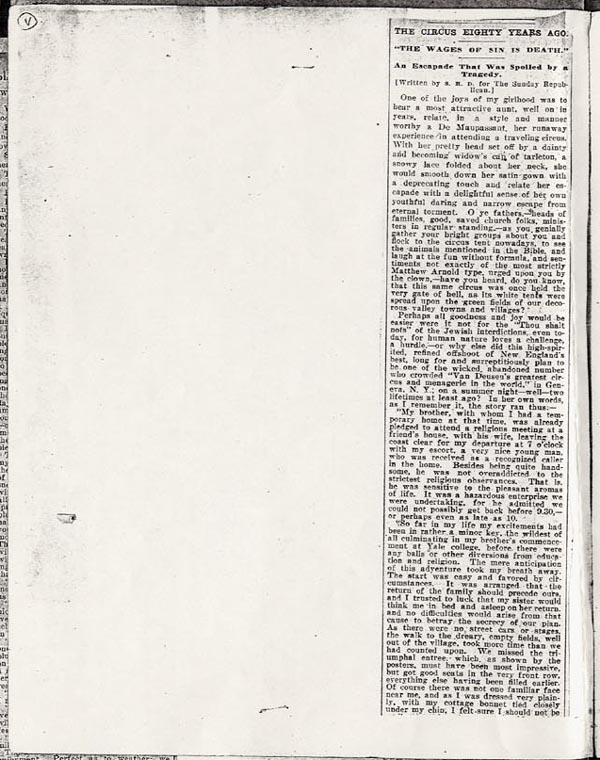 Transcription:
----------------------------------------------------------------------------------------------------------------------------------
THE CIRCUS EIGHTY YEARS AGO
"THE WAGES OF SIN IS DEATH."
An Escapade That Was Spoiled by a Tragedy.
[Written by S. H. D. for The Sunday Republican.]
One of the joys of my girlhood was to hear a most attractive aunt,
well on in years, relate, in a style and manner worthy a De
Maupassant, her runaway experience in attending a traveling
circus. With her pretty head set off by a dainty and becoming
widow's cap of tarleton, a snowy lace folded about her neck, she
would smooth down her satin gown with a deprecating touch and
relate her escapade with a delightful sense of her own youthful
daring and narrow escape from eternal torment. O ye fathers, -
heads of families, good, saved church folks, ministers in regular
standing, - as you genially gather your bright groups about you and
flock to the circus tent nowadays, to see the animals mentioned in
the Bible, and laugh at the fun without formula, and sentiments not
exactly of the most strictly Matthew Arnold type, urged upon you
by the clown, - have you heard, do you know, that this same circus
was once held the very gate of hell, as its white tents were spread
upon the green fields of our decorous valley towns and villages?
Perhaps all goodness and joy would be easier were it not for the
"Thou shalt nots" of the Jewish interdictions, even to-day, for
human nature loves a challenge, a hurdle, - or why else did this
high-spirited, refined offshoot of New England's best, long for and
surreptitiously plan to be one of the wicked, abandoned number
who crowded "Van Deusen's greatest circus and menagerie in the
world," in Geneva, N.Y. on a summer night - well - two lifetimes at
least ago? In her own words, as I remember it, the story ran thus:-
"My brother, with whom I had a temporary home a that time, was
already pledged to attend a religious meeting at a friend's house,
with his wife, leaving the coast clear for my departure at 7 o'clock
with my escort, a very nice young man, who was received as a
recognized caller in the home. Besides being quite handsome, he
was not overaddicted to the strictest religious observances. That is,
he was sensitive to the pleasant aromas of life. It was a hazardous
enterprise we were undertaking, for he admitted we could not
possibly get back before 9.30, - or perhaps even as late as 10.
"So far in my life my excitements had been in rather a minor key,
the wildest of all culminating in my brother's commencement at
Yale college, before there were any balls or other diversions from
education and religion. The mere anticipation of this adventure
took my breath away. The start was easy and favored by
circumstances. It was arranged that the return of the family should
precede ours, and I trusted to luck that my sister would think me in
bed and asleep on her return, and no difficulties would arise from
that cause to betray the secrecy of our plan. As there were no street
cars or stages, the walk to the dreary, empty fields, well out of the
village, took more time than we had counted upon. We missed the
triumphal entree, which, as shown by the posters, must have been
most impressive, but got good seats in the very front row,
everything else having been filled earlier. Of course there was not
one familiar face near me, and as I was dressed very plainly, with
my cottage bonnet tied closely under my chin, I felt sure I should
not be