Manuscript: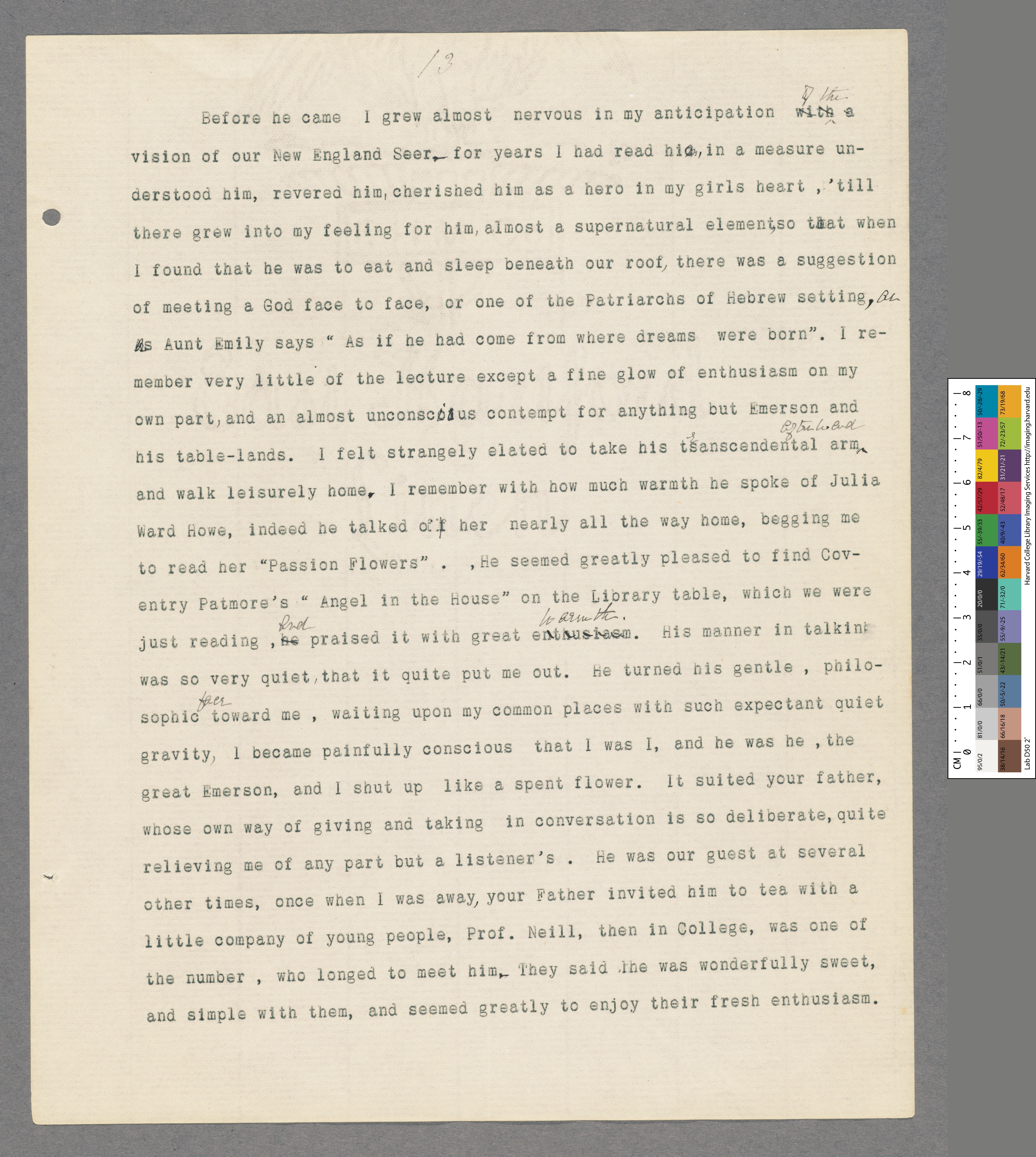 Transcription:
-------------------------------------------------------------------------------------------------------------------------------------------
Before he came I grew almost nervous in my anticipation with a of this
vision of our New England Seer - for years I had read him, in a measure un-
derstood him, revered him, cherished him as a hero in my girl's heart, 'till
there grew into my feeling for him, almost a supernatural element, so that when
I found that he was to eat and sleep beneath our roof, there was a suggestion
of meeting a God face to face, or one of the Patriarchs of Hebrew setting, as
as Aunt Emily says " As if he had come from where dreams were born". I re-
member very little of the lecture except a fine glow of enthusiasm on my
own part, and an almost unconscious contempt for anything but Emerson and
his table-lands. I felt strangely elated to take his transcendental arm afterward
and walk leisurely home, I remember with how much warmth he spoke of Julia
Ward Howe, indeed he talked of her nearly all the way home, begging me
to read her "Passion Flowers". . He seemed greatly pleased to find Cov-
entry Patmore's "Angel in the House" on the Library table, which we were
just reading, he and praised it with great enthusiasm warmth. His manner in talking
was so very quiet, that it quite put me out. He turned his gentle, philo-
sophic face toward me, waiting upon my common places with such expectant quiet
gravity, I became painfully conscious that I was I, and he was he, the
great Emerson, and I shut up like a spent flower. It suited your father,
whose own way of giving and taking in conversation is so deliberate, quite
relieving me of any part but a listener's. He was our guest at several
other times, once when I was away, your Father invited him to tea with a
little comapny of young people, Prof. Neill, then in College, was one of
the number, who longed to meet him,. They said the [sic] was wonderfully sweet,
and simple with them, and seemed greatly to enjoy their fresh enthusiasm.