Manuscript: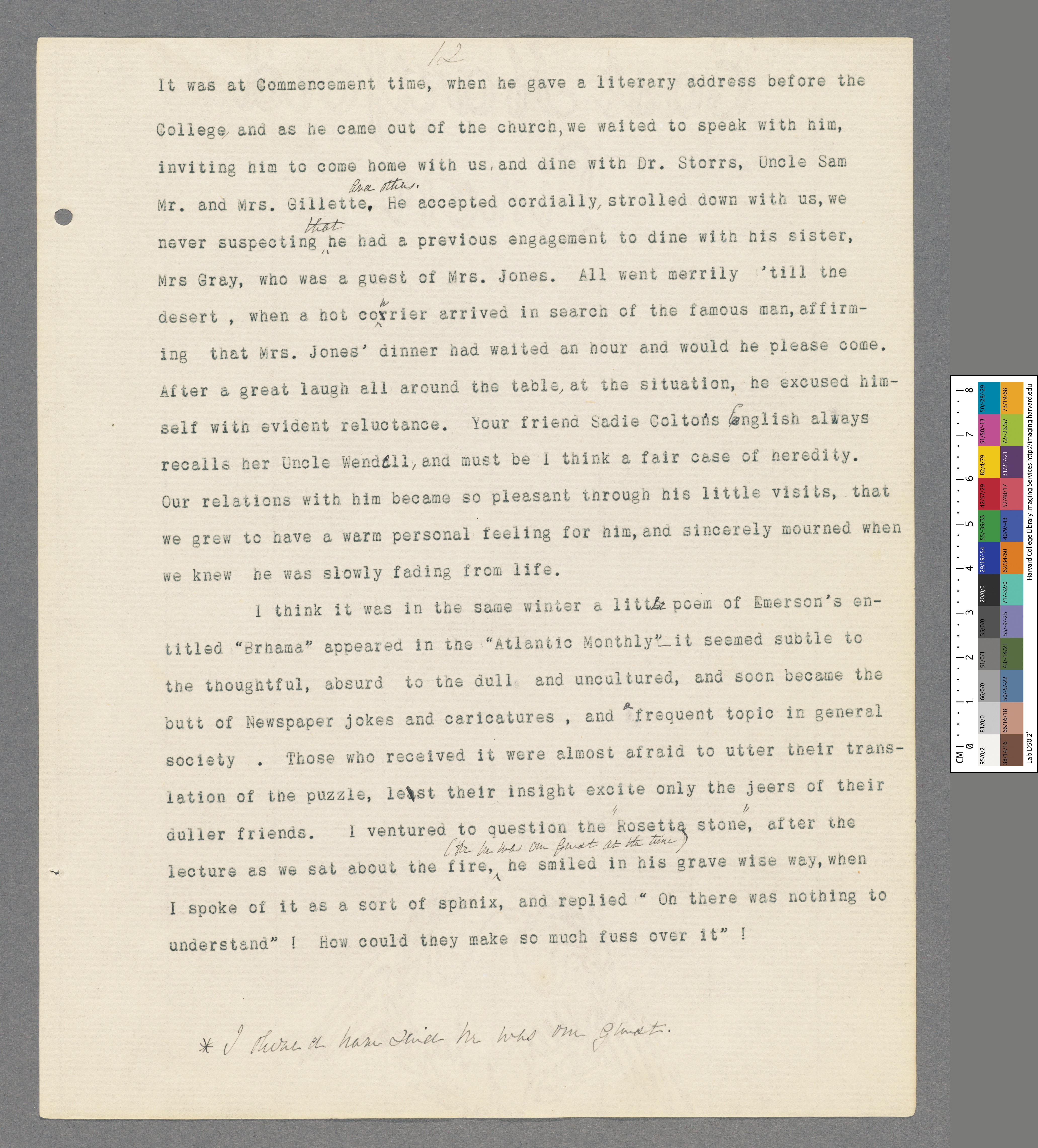 Transcription:
---------------------------------------------------------------------------------------------------------------------------------
12
It was at Commencement time, when he gave a literary address before the
College and as he came out of the church, we waited to speak with him,
inviting him to ocme home with us and dine with Dr. Storrs, Uncle Sam
Mr. and Mrs. Gillette, and others. He accepted cordially, strolled down with us, we
never suspecting that he had a previous engagement to dine with his sister,
Mrs. Gray, who was a guest of Mrs. Jones. All went merrily 'till the
desert, when a hot courier arrived in search of the famous man, affirm-
ing that Mrs. Jones' dinner had waited an hour and would he please come.
After a great laugh all around the table, at the situation, he excused him-
self with evident reluctance. Your friend Sadie Coltons English always
recalls her Uncle Wendell, and must be I think a fair case of heredity.
Our relations with him became so pleasant through his little visits, that
we grew to have a warm personal feeling for him, and sincerely mourned when
we knew he was slowly fading from life.
I think it was in the same winter a little poem of Emerson's en-
titled "Brhama" appeared in the "Atlantic Monthly" - it seemed subtle to
the thoughtful, absurd to the dull and uncultured, and soon became the
butt of Newspaper jokes and caricatures, and a frequent topic in general
society. Those who received it were almost afraid to utter their trans-
lation of the puzzle, lest their insight excite only the jeers of their
duller friends. I ventured to question the "Rosetta stone", after the
lecture as we sat about the fire, (for he was our guest at the time)
[carry-on from previous line] he smiled in his grave wise way, when
I spoke of it as a sort of sphnix, and replied " Oh there was nothing to
understand"! How could they make so much fuss over it" !
*I should have said he was our guest.