Manuscript: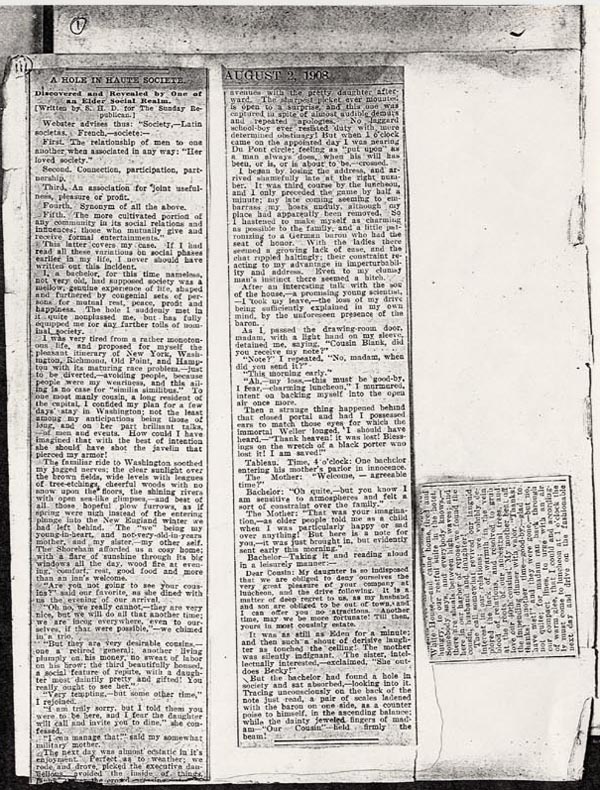 Transcription:
----------------------------------------------------------------------------------------------------------------------------------------------
Discovered and Revealed by One of an Elder Social Realm.
[Written by S. H. D. for The Sunday Republican.]
Webster advises thus: "Society, - Latin societas. French, - societe. -
First. The relationship of men to one another, when
associated in any way: "Her loved society."
Second. Connection, participation, partnership.
Third, An Association for joint usefulness, pleasure of profit.
Fourth. Synonym of all the above.
Fifth. The more cultivated portion of any community
in its social relations and influences; 
those who mutually give
and receive formal entertainments."
This latter covers my case. If I had read all these variations
on social phases earlier in my life, 
I never should have written out
I, a bachelor, for this time nameless, not very old, 
had
supposed society was a mellow, genuine experience of life, shaped
and furthered by 
congenial sets of persons for mutual rest, peace,
profit and happiness. The hole I suddenly 
met in it quite nonplussed
me, but has fully equipped me for any farther toils of nominal society.
I was very tired from a rather monotonous life, and proposed
for myself the pleasant itinerary 
of New York, Washington, Richmond,
Old Point, and Hampton with its maturing race problem, 
- just to be
diverted, - avoiding people, because people were my weariness,
and this ailing is 
no case for "similar similibus." To one most manly
cousin, a long resident of the capital, 
I confided my plan for a few
days stay in Washington; not the least among my anticipations
being those of long, and on her part brilliant talks, - of men and
events. How could I have 
imagined that with the best of intention
she should have shot the javelin that pierced my armor!
The familiar ride to Washington soothed my jagged nerves;
the clear sunlight over the brown fields, 
wide levels with leagues
of tree etchings, cheerful woods with no snow upon the floors,
the shining 
rivers with open sea-like glimpses, - and best of all
those hopeful plow furrows, as if spring were 
nigh instead of the
entering plunge into the New England winter we had left behind.
The "we" being my young-in-heart, and not-very-old-in-years
mothers, and my sister, - 
my other self. 
The Shoreham afforded
us a cosy home; with a flare of sunshine through its big windows
all the day, 
wood fire at evening, comfort, rest, good food and
more than an inn's welcome.
"Are you not going to see your cousins?" said our favorite,
as she dined with us the evening of our arrival.
"Oh, no, we really cannot, - they are very nice, but we
will do all that another time; we are incog everywhere, 
even to
ourselves, if that were possible," - we chimed in a trio. 
"But they are very desirable cousins, 
- one a retired
general; another living plumply on his money, 
no sweat of labor
on his brow; 
the third beautifully housed, a social feature of
repute, with a daughter 
most daintily pretty and gifted! 
You
really ought to see her." 
"Very tempting, - but some other time," I rejoined.
"I am truly sorry, but I told them you were to be here,
and I fear the daughter will call and invite you to dine,"
"I can manage that!" said my somewhat military mother.
The next day was almost ecstatic in it's enjoyment.
Perfect as to weather; we rode and drove, picked the
executive dandelions avoided the inside of things,