< Back to Personal Correspondence
Correspondence with Kate Anthon
   Letter to SD: December 20th, [no year]
< transcription 1, transcription 2 >
H bMS Am 1118.95, Box 9
Note not yet available.
---
Telegraph to SD: July 3, 1897?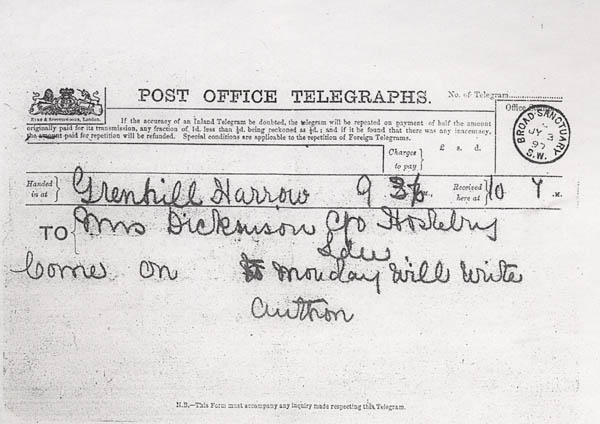 H bMS Am 1118.95, Box 9
Note not yet available.
---
   Letter to SD: September 6, [no year]
< transcription 1, transcription 2 >
<transcription 3, transcription 4 >
< transcription 5, transcription 6 >
< transcription 7, transcription 8 >
H bMS Am 1118.95, Box 9
Early 1900s. Note not yet available.

   
---
Postcard from SD: October 16, 1909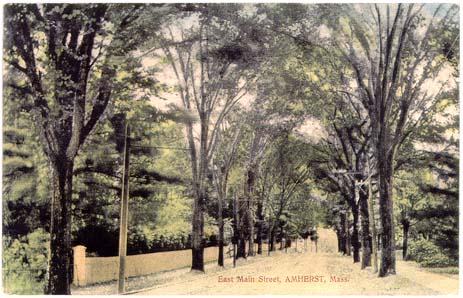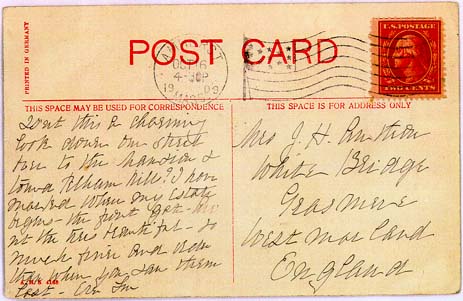 < transcription >
Property of Daniel Roberts Tucker, On Loan to the Jones Library, Inc., Amherst, MA.
Quoted by permission of the Martha Dickinson Bianchi Trust.
Susan's "X" to mark where her "estate begins" can be seen on the white fence, just above the word "East" (in "East Main Street, Amherst, Mass"). This shot looks east, toward the Homestead, which is obscured by trees. Utility poles are visible marks of Amherst's transformation from a slower nineteenth-century life linked by postal services and lighted by oil lamps, candles, and then gas, to a faster-paced, more technologically sophisticated twentieth-century world linked by telephone and lit by electricity, a transformation that Martha Dickinson Bianchi remarks in her Life Before Last: Reminiscences of a Country Girl(unpublished autobiography being edited by Barton St. Armand and Martha Nell Smith).
Kate Anthon was a lifelong friend of Susan's. After attending Utica Female Seminary together in the 1840s, the two women kept in regular contact. In the late 1850s, Kate visited the Evergreens and met Emily Dickinson. Emily's few letters to "Condor Kate" are, along with the hundreds of writings to Susan, her most sensual and sexual. In The Riddle of Emily Dickinson (1951), Rebecca Patterson argued that many of Emily's love poems were written to Kate. Riddlewas the first book-length study of Dickinson's homoerotic passion.