Manuscript: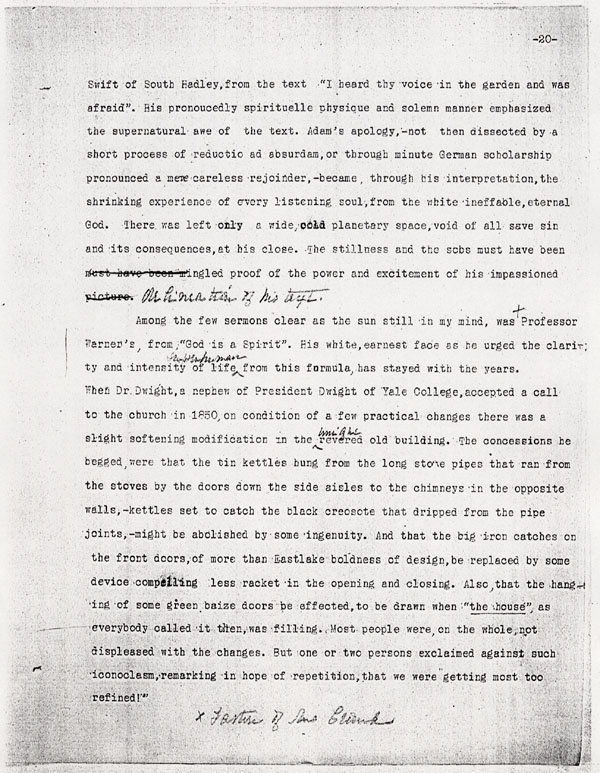 Transcription:
 ------------------------------------------------------------------------------------------------------------------
-20-
Swift of South Hadley, from the text "I heard thy voice in the garden and was
afraid". His pronoucedly [sic] spirituelle physique and solemn manner emphasized
the supernatural awe of the text. Adam's apology -- not then dissected by a
short process of reductio ad absurdam, or through minute German scholarship
pronounced a mere careless rejoinder, -- became, through his interpretation, the
shrinking experience of every listening soul, from the white ineffable, eternal
God. There was left only a wide, cold planetary space, void of all save sin
and its consequences, at his close. The stillness and the sobs must have been
must have been mingled proof of the power and excitement of his impassioned
picture delineation of his text
Among the few sermons clear as the sun still in my mind, was X Professor
Warner's, from "God is a Spirit". His white, earnest face as he urged the clari-
ty and intensity of life superhuman from this formula, has stayed with the years.
When Dr. Dwight, a nephew of President Dwight of Yale College, accepted a call
to the church in 1850, on condition of a few practical changes there was a
slight softening modification in the unique revered old building. The concessions he
begged, were that the tin kettles hung from the long stove pipes that ran from
the stoves by the doors down the side aisles to the chimneys in the opposite
walls, -- kettles set to catch the black creosote that dripped from the pipe
joints, -- might be abolished by some ingenuity. And that the big iron catches on
the front doors, of more than Eastlake boldness of design, be replaced by some
device compelling less racket in the opening and closing. Also, that the hang-
ing of some green baize doors be effected, to be drawn when "the house", as
everybody called it then, was filling. Most people were, on the whole, not
displeased with the changes. But one or two persons exclaimed against such
iconoclasm, remarking in hope of repetition, that we were "getting most too
refined!"
* Father of Mrs Clark[?]