Ravished Slates: Re-visioning the "Lord Letters"
A Scholarly Exploration of Material Evidence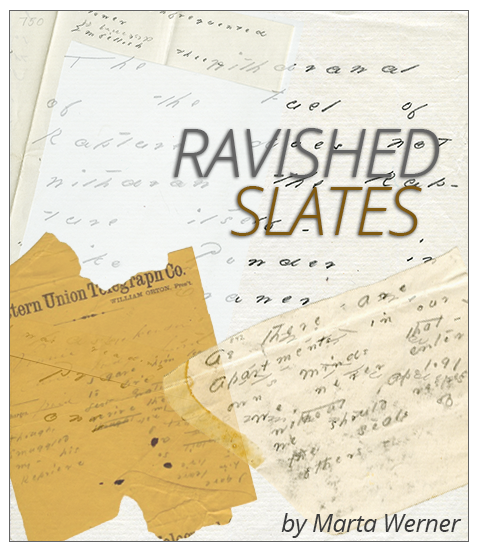 Emily Dickinson's Ravished Slates is a scholarly exploration of a group of forty late drafts and fragments hitherto known as the "Lord Letters." At the center and heart of this site (Exhibit 4: Ravished Slates) are digital surrogates of the documents accompanied by my own early (1995)  diplomatic transcriptions of them. At the edges of the site, various paratexts—speculative essays, additional exhibitions, and appendices—offer a case study of this "correspondence" that challenges genre boundaries, notions of singular address, and systems of collection. Of primary interest will be the ontological question of what the manuscripts are. The essays reveal the history of the editorial representation of these documents and open up new interpretive possibilities based on a reading of material evidence. The digital environment enables readers to reimagine and rethink the relationships between these manuscripts. Do they belong together? Does a fresh analysis of the physical evidence alter theories of affiliations among the manuscripts themselves? Do the cuts in the manuscripts represent editorial mutilations or changing authorial intentions? How has the history of reading Dickinson been inflected by past editorial representations of these documents, including narratives of their transmission history? Liberated from the singularity of constructed address, what can these manuscripts tell us about late scenes of Dickinson's writing?