Manuscript: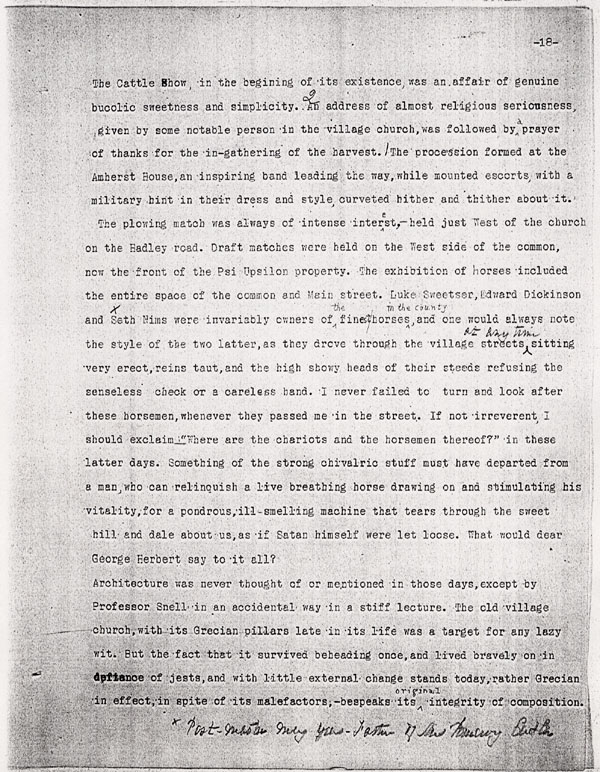 Transcription:
---------------------------------------------------------------------------------------------------------------------
  -18-
The Cattle Show, in the begining [sic] of its existence, was an affair of genuine
bucolic sweetness and simplicity. 2 An address of almost religious seriousness,
given by some notable person in the village church, was followed by a prayer
of thanks for the in-gathering of the harvest. 1 The procession formed at the
Amherst House, an inspiring band leading the way, while mounted escorts, with a
military hint in their dress and style, curveted hither and thither about it.
The plowing match was always of intense interest, -- held just West of the church
on the Hadley road. Draft matches were held on the West side of the common,
now the front of the Psi Upsilon property. The exhibition of horses included
the entire space of the common and Main street. Luke Sweetser, Edward Dickinson
and X Seth Nims were invariably owners of the finest horses in the county, and one would always note
the style of the two latter, as they drove through the village streets at any time sitting
very erect, reins taut, and the high showy heads of their steeds refusing the
senseless check or a careless hand. I never failed to turn and look after
these horsemen, whenever they passed me in the street. If not irreverent, I
should exclaim: -- "Where are the chariots and the horsemen thereof?" in these
latter days. Something of the strong chivalric sutff must have departed from
a man, who can relinquish a live breathing horse drawing on and stimulating his
vitality, for a pondrous, ill-smelling machine that tears through the sweet
hill and dale about us, as if Satan himself were let loose. What would dear
George Herbert say to it all?
Architecture was never thought of or mentioned in those days, except by
Professor Snell in an accidental way in a stiff lecture. The old village
church, with its Grecian pillars late in its life was a target for any lazy
wit. But the fact that it survived beheading once, and lived bravely on in
defiance of jests, and with little external change stands today, rather Grecian
in effect, in spite of its malefactors, -- bespeaks its original integrity of composition.
* Post-master many years -- Father of Mrs Pomeroy Cutler