Manuscript: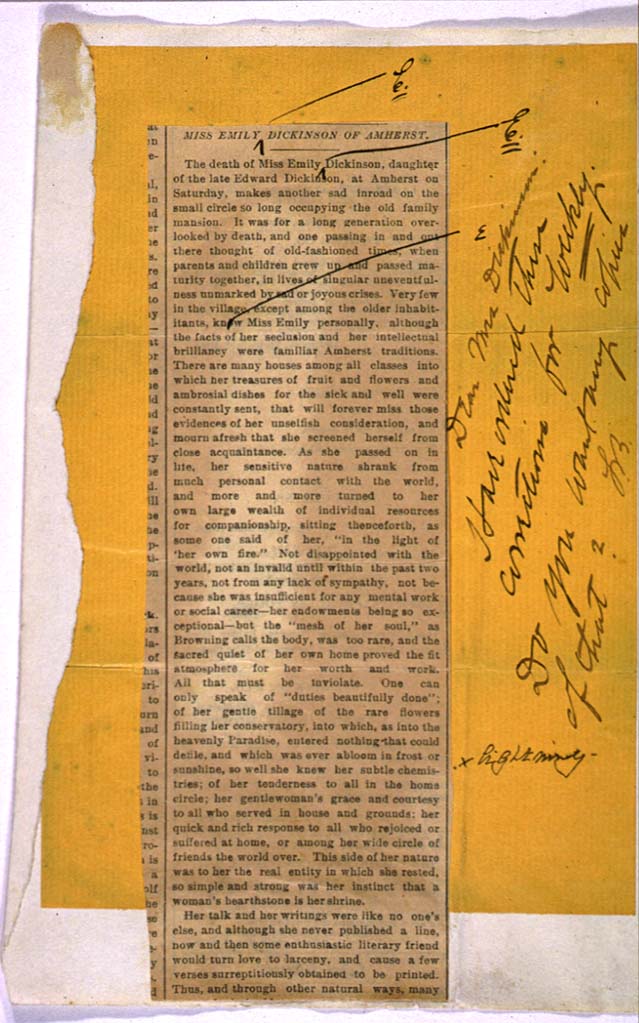 Transcription:
-----------------------------------------------------------------------------------------------
Miss Emily E. Dickinson of Amherst.
The death of Miss Emily E. Dickinson, daughter
of the late Edward Dickinson, at Amherst
on Saturday, makes another sad inroad on the
small circle so long occupying the old family
mansion. It was for a long generation over-
looked by death, and one passing in and out
there thought of old-fashioned times, when
parents and children grew up and passed ma-
turity together, in lives of singular uneventful-
ness unmarked by sad or joyous crises. Very few
in the village, excepting among the older inhabit-
itants, know knew Miss Emily personally, although
the facts of her seclusion and her intellectual
brilliancy were familiar Amherst traditions.
There are many houses among all classes into
which her treasures of fruit and flowers and
ambrosial dishes for the sick and well were
constantly sent, that will forever miss those
evidences of her unselfish consideration, and
mourn afresh that she screened herself from
close acquaintance. As she passed on in
life, her sensitive nature shrank from
much personal contact with the world,
and more and more turned to her
own large wealth of individual resources
for companionship, sitting thenceforth, as
some one said of her, "In the light of
'her own fire." Not disappointed with the
world, not an invalid untill within the past two
years, not from any lack of sympathy, not be-
cause she was insufficient of any mental work
or social career-- her endowments being so ex-
ceptional--but the "mesh of her soul," as
Browning calls the body, was too rare, and the
sacred quiet of her own home proved the fit
atmosphere for her worth and work.
All that must be inviolate. One can
only speak of "duties beautifully done";
of her gentle tillage of the rare flowers
filling her conservatory, into which, as into the
heavenly Paradise, entered nothing that could
defile, and which was ever abloom in frost or in SD's hand: lightning-
sunshine, so well she knew her subtle chemis-
tries; of her tenderness to all in the home
circle; her gentlewoman's grace and courtesy
to all who served in house and grounds; her
quick and rich response to all who rejoiced or
suffered at home, or among her wide circle of
friends the world over. This side of her nature
was to her the real entity in which she rested,
so simple and strong was her instinct that a
woman's hearthstone is her shrine.
Her talk and her writings were like no one's
else, and although she never published a line,
now and then some enthusiastic literary friend
would turn love to larceny, and cause a few
verses surreptitiously obtained to be printed.
Thus, and through other natural ways, many
[In ink, corrections made to typescript and note to Susan in margin:]
Dear Mrs. Dickinson-
Have made these corrections for Weekly.
Do you want any copies of that? S.B.