Manuscript: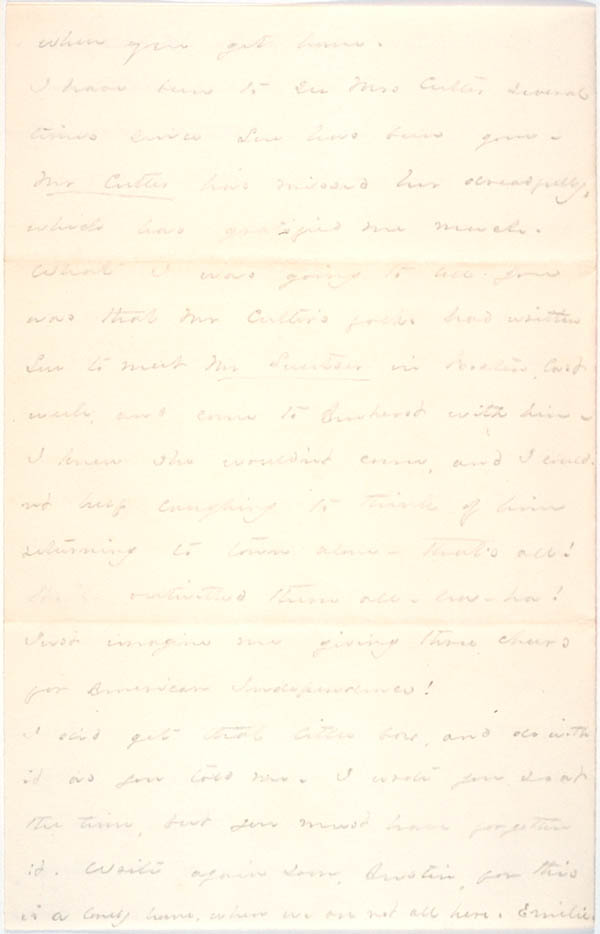 Transcription:
when you get home.
I have been to see Mrs Cutler several
times since Sue has been gone.
Mr Cutler has missed her dreadfully,
which has gratified me much.
What I was going to tell you
was that Mr Cutler's folks had written
Sue to meet Mr Sweetser in Boston last
week, and come to Amherst with him.
I knew she would'nt come, and I could-
nt help laughing to think of him
returning to town alone - that's all!
[Sue's] outwitted them all - ha-ha!
just imagine me giving three cheers
for American Independence!
I did get that little box, and do with
it as you told me. I wrote you so at
the time, but you must have forgotten
it. Write again soon, Austin, for this
is a lonely house, when we are not all here. Emilie
[Written along left margin of page one]
Mother says "tell Austin I think perhaps
I shall write him a letter myself."