Manuscript: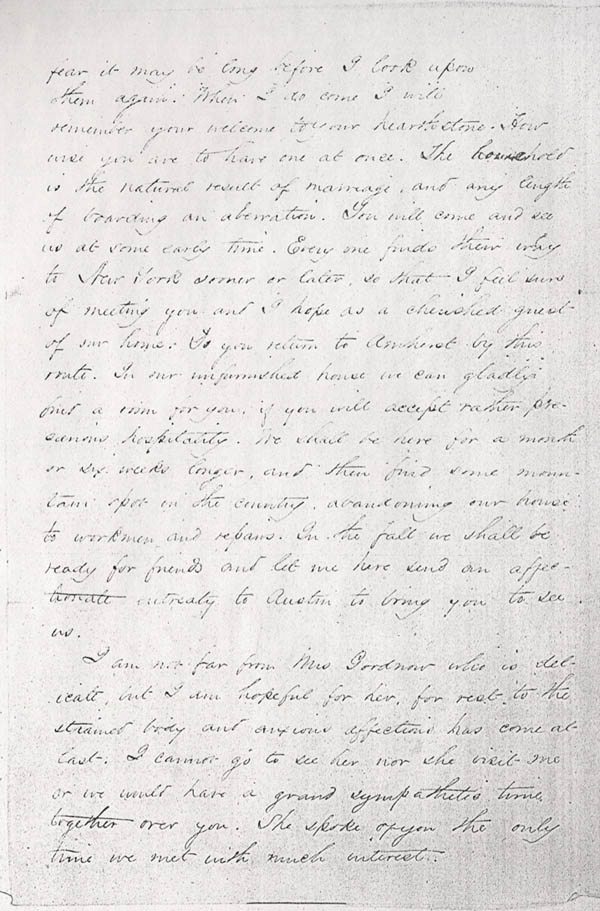 Transcription:
---------------------------------------------------------------------------------------------
fear it may be long before I look upon
them again. When I do come I will
remember your welcome to your hearthstone. How
wise you are to have one at once. The household
is the natural result of marriage, and any length
of boarding an aberration. You will come and see
us at some early time. Every one finds their way
to New York sooner or later, so that I feel sure
of meeting you and I hope as a cherished guest
of our home. So you return to Amherst by this
[?]. In our unfurnished house we can gladly
find a room for you, if you will accept rather pre-
carious hospitality. We shall be here for a month
or six weeks longer, and then find some moun-
tain spot in the country, abandoning our house
to workmen and repairs. In the fall we shall be
ready for friends and let me here send an affec-
tionate entreaty to Austin to bring you to see
us.
I am not far from Mrs. G[oodman?] who is del-
icate, but I am hopeful for her, for rest to the
strained body and anxious affection has come at
last. I cannot go to see her nor she visit me
or we would have a grand sympathetic time
together over you. She spoke of you the only
time we met with much interest.